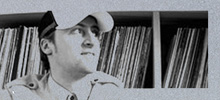 Toez
Labels: Stepping Forward Records
My name is Toez, and for twenty years I've followed all forms of beat. Like Grooverider said 'its all house music.' Drum and Bass has just never failed to appeal throughout, and making my own has become the logical progression.
My approach to making music has always been simple. Never mind the science of digital production, just find a groove. Whether that comes from a melody on a synth, or from chopping up a 40 year old funk sample. If its running its running. The simplest sounding things are often the best, thats why producers like DJ Premier, Tony Touch and Clark Kent are my heroes.
Recently my songs are a roll through the spectrum of the Liquid genre I've built and loved. They vary from classic house inspired 'The Rock', to the Rollers sound '(I Know) You Love Me' to tracks like 'California' who's inspiration is in old Main Source and Gangstarr joints. The underlying theme though is funk.