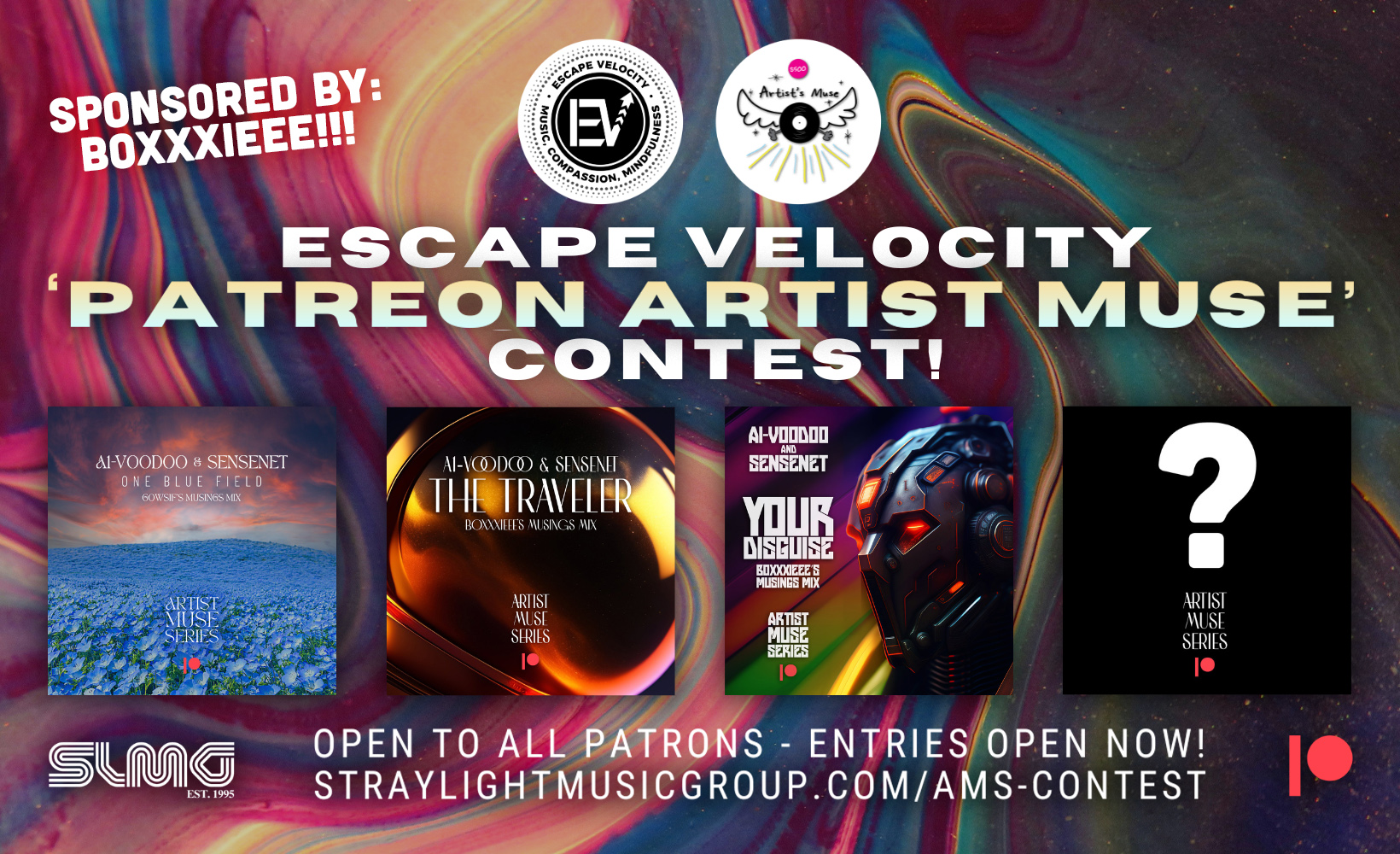 — Click here to read a selection of submitted stories —
So what's all this about then?
Well THIS is the Official Escape Velocity "ARTIST MUSE SERIES CONTEST"! If you're a patron who's been interested in this tier of support for us already but weren't able to make that level of commitment, or maybe just wanted to become a patron of ours in general and never got around to it - now's the time to jump in!
And why you might ask? Because the one and only BOXXXIEEE (two time ARTIST MUSE themselves <3) is going to give one lucky person the opportunity to be OUR Artist's Muse JUST FOR BEING A PATRON! This CONTEST will award one lucky Escape Velocity Patron an 'ARTIST MUSE' tier membership for one month and the opportunity to be our next studio muse! As the winner, YOU will contribute your ideas and desires for the 'feeling' of a song that SenseNet and I (A1-Voodoo) will take in and combine with our own flavor to create AMS004!!!!
WELCOME POSSIBLE FUTURE MUSES!!!!
Ok, great! But how do I enter?
01) Make sure you are an active patreon supporter of Escape Velocity at any tier HERE.
02) Then all you need to do is submit a 'story' about Jungle or Drum & Bass and how it has affected your life, or the lives of your friends or family. Anything goes; heartfelt, funny, cringy, warts and all - we LOVE to hear the stories that weave the tapestry of our scene!
Once your story entries have all been collected, the one that most resonates with us personally (SenseNet and myself A1-Voodoo) will be the winning selection and the person we'll work with to create 'Artist Muse' song #4 in this ever growing community project of FREE JUNGLE & DRUM n BASS MUSIC!
Spread the word to all the people you know who love Jungle & DnB that this is happening and get them over here to join us, give thier stories and get entered into this giveaway! 
Contest Entries Accepted Until: Tuesday October 31st 2023
ONCE YOU HAVE BECOME A PATREON SUPPORTER of any tier HERE, you are eligible to join this Artist Muse Series Patreon Tier Contest using this form below. Submissions are verified against your ACTIVE Patreon membership at the time of entry and again at the time of final selection on Friday November 3rd 2023.
Artist Muse Series Contest Sign Up
If this form does nothing when you submit it, gives you an error of some sort, or you it doesn't give you an entry confimation message after pressing the 'Send us your story' button - please email us your story directly at slmg 'at' straylightmusicgroup 'dot' com and we'll get you entered right in, no stress. (we're just two people and while music is our thing, websites not really… but we try lol)
Music is about the story, the memory, and the effect
Jungle and me — I was introduced to rave music in high school back around 96. Cassette tapes! Met this kid Simon, he was taping the radio shows"Prophecy and Hard Drive" from the University of Toronto's "CIUT" 89.5 FM. Hard Drive was a lot of techno and Rotterdam type stuff, as where Prophecy (hosted by the man like Marcus Visionary) was for the Jungle/DnB crowd. Now this was post Jungle golden years and the sound of Drum and Bass around that time did not appeal to me so I really paid no attention to it at all. I got in to the high energy of the techno and Rotterdam and then happy hardcore in 97. And life was good!
Then one day my friend Kevin came over to my place with an old school jungle mix, it was DJ Ruffneck (another Toronto Don) with a ragga jungle mix from 94. Well, he threw this tape on and immediately my eyes (and ears) lit up, it was unlike anything else I'd ever heard.  It had the energy that I loved from the Rotterdam and happy hardcore but it had this whole next layer of BADNESS on top!!!!! And I knew right then that this…..this was my sound! I didn't really seek out music when I was growing up. I listened to whatever my mom or my older sister were listening to, up until these moments I didn't have any kind of connection with music.  But that changed when I started going to raves and discovering how much I loved dancing to rave music! And then that changed again when I found jungle.  Jungle spoke to my soul in a way that nothing ever had, and it still does now!
One late Friday night I was exploring Twitch to see what was what an found the Escape Velocity, what was this music and who were the really nice people streaming and chatting. From the toga party to the old projector and the stories about all the music.  This was to be my journey into drum and bass. Late 2019 there was a party in Tampa they said at the Castle.  Being a introvert and being awkward in grade school, could I see myself going a nightclub and dancing?  I was nervous but Sensenet and A1 encouraged me so I went and it was so much fun and it seemed like everyone was accepted and we got to go onto the tour bus and chill out.  I made instant friends that night. This also led me to dust off my old 1200's, buy a updated mixer and start buying all kinds of Jungle and Drum and Bass tunes and start recording mixes again.
I feel like a part of a really amazing community and now actually go to local DnB events and dance with my wife, its crazy to me how much this has changed me, but also, after 20 years of marriage actually dance with my wife she may be more surprised than  me, LOL!
So, this is probably my favorite part; You, you two, get a pile of stories that speak to and invigorate your faith in your musical mission, and your journey. At the same time, we get to make a page for the fans of all their stories, that they can see and enjoy, that they're a part of. It keeps us all connected… To the both of you, to each other, and to the culture of this amazing music we call Jungle & Drum n Bass!
AND… everyone's gonna get a brand new FIRE track out of it from yourselves and the contest winner - each of you invested in all these connections, the people and this music culture!
It's not really a story per se, but nothing has so profoundly affected me and my growth as a DJ as playing b2b2b with Keith (Kay-S) and Shaman. And I'm sorry Keith but this story is mostly about Shaman 🙂
I could go on and on about how much Shaman meant to me as a person, but I hardly talk about how practicing with him affected me as a DJ. Listening and playing alongside newbie DJs isn't always for the faint of heart, but Keith and Shaman never complained about my strange track selection or my loose blends. Aside from Keith,  I've logged the most time on the decks with Shaman. He broke me of some weird habits I learned from Youtube and how to recover when someone rewinds you. He never hesitated to correct me when I was doing something wrong and he was always quick with a word of encouragement. Watching his style,  I learned how to do quick volume fader cuts. I learned how to keep the energy high - "for booty shakin'."
As a raver I loved seeing him DJ because he was the only one who would play jungle and hardcore. I really didn't know much about it at the time but over the sessions we spent together I quickly learned. I'm still learning from him to this day. I've scoured his Bandcamp, researched all the labels of the records he lent me, and even looked into the stickers on his record crate.
I didn't realize it at the time, I just thought we were having fun and goofing off. But Shaman was mentoring me. He was passing on his knowledge and music so that it could be carried into the future. Human beings are tribal creatures, and the rave scene is one of the few avenues where we really get to have that kind of community and form those sorts of bonds. So I'm forever grateful for it <3
I found Jungle/DnB on Twitch in early 2020… just before the pandemic hit.

We all remember, those were weird times. Personal human interactions were slim. But, it was such a huge opportunity for Twitch communities, and the EV4044 community really came alive and pushed the narrative around mental health.
We're right here with you man! The both of us are eternally thankful for Gowsif kicking things off, and yourself for getting involved as well as now sponsoring this contest! There are few things we love more than creating new music, and to get to do it with the inspirations of others is the ultimate!
AMS004 should be a real treat as we get to learn a side of whoever will be our chosen winner by way of their stories. These experiences will likely be a big part of what music we make with them and that is seriously exciting to us <3
These are the songs we've made with our Patreon supporter muses so far and they're yours to have for free - enjoy <3
Is your 'Artist Muse' song going to be next?