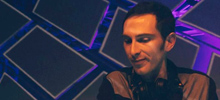 Actraiser
Labels: Force Recordings, Stepping Forward Records
To book ActRaiser for a DJ set, either message him on Soundcloud or via Facebook, or email him at:
ActraiserMusic@live.co.uk
ActRaiser is an electronic music producer based in the UK. His sound primarily focuses on the deeper side of Drum & Bass music, but he can also be found making tracks of other genres such as Dubstep, Techno, Downtempo and Electronica. He has music released on a wide variety of respected labels such as Fokuz, Med School, Liquicity, Celsius, Influenza Media, Phuzion, Scientific, Offworld Recordings, Echodub, Cut, Gradient Audio, Cold Busted, Stepping Forward, Paradise Lost and Car Crash Set.
He provides regular studio mixes for Bassdrive radio, with his own show in the works, and contributes many more mixes and podcasts to various online outlets for great music. All of his mixes are recorded in one take using a Pioneer DJ Controller and Serato, while his live sets are played using Pioneer CDJs or Technics Turntables.